Full Service Solutions
Every customer, project, or request is treated with complete care and dedication. Our team is committed to fully understanding the customer's needs and requirements. We combine the clients request with our expert knowledge to develop a custom plastic solution or bulk merchandising solution to meet and exceed our clients needs.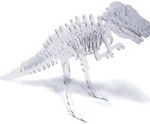 Custom Product Customers: From the moment a client walks in the door, calls or emails we work to understand their needs. Once the idea is developed, our in-house design team provides the customer with blueprints, prototypes or 3D renderings to ensure complete satisfaction before moving to production. Our in-house production team ensures complete quality control. We specialize in customized product displays, store fixtures, point-of-purchase displays, signage and many other plastic products for the for retail, medical, entertainment, governmental and industrial industries.
Bulk Merchandising Customers:  From the initial contact with our bulk merchandising customers; we work hard to understand the retailer, the brand and the desired goals. From the scoop bin or gravity bin, to a complete "shop-in-shop" bulk merchandising fixture solution, we are a "one-stop-shop." Our relationship with fixture suppliers and distributors offers endless possibilities. The Akriform bulk bin solutions have been tested and proven around the world to drive sales, minimize operational cost, improve store presentation and optimize retail space.

Research and Development
We think of ourselves as innovators and leaders in the market.Akriform was founded on the principle of continuously finding opportunities to improve and bring new product features and production methods to market. We actively research for ways to innovate the market and never shy away from solving a customer's problem.